Find Sonographer Training Programs in Iowa
Sonographer Training Programs in Iowa
Explore careers in medical imaging today by reaching out to diagnostic medical sonography schools in Iowa!
Located in the heart of the Midwest, Iowa employs hundreds of ultrasound technicians, otherwise known as diagnostic medical sonographers. Though much of the state is made up of rural farmland, there are several hospitals and clinics that rely on ultrasound techs to make sure patients are receiving accurate and efficient healthcare and diagnostic services. manufacturing, finance and biotech industries also make up large portions of the economy.
To find programs that will allow you to enter this essential job field within healthcare, simply look at our lists below.
Request information for as many programs as you need to make a wise decision about which school you'd like to attend.
<!- mfunc feat_school ->
What Are the Top Ultrasound Training Programs in Iowa?
What should you look for in ultrasound tech training programs? Is sonography a good career in Iowa? You likely have lots of questions as you prepare to take the next step in your career, but we're here to help. One of the best parts of becoming an ultrasound tech is how quickly you can get started. Many ultrasound training programs are designed to be finished in one year or less. If you're not sure which option is best for you, check out different medical imaging specialties in Iowa.
Is Ultrasound Tech a Good Career in Iowa?
Certificate programs last one year, Associate's degree programs last two years, and Bachelor's degree programs last four years
Credit requirements vary between 30, 60, and 120 credits
Complete up to 1,700 clinical hours
May become certified by the American Registry of Diagnostic Medical Sonographers
Best Ultrasound Tech Training Programs in Iowa
This is likely the job title you think of when you ask "How much do ultrasound techs make in Iowa?" You may want to become certified after graduation, which is why you should choose an accredited training program.
Ultrasound Tech Coursework in Iowa
Sonographic Cross-Sectional Anatomy
Principles of Imaging
Procedures of Medical Imaging
Professional Ethics in Sonography
Top Sonography Training Programs in Iowa
The use of diagnostic medical sonography helps patients get more appropriate care in a shorter timeframe. Choose a program that gives you experience in different medical specialties, since medical imaging is used by the vast majority of specialists now.
Diagnostic Medical Sonography Classes in Iowa
Physics and Instrumentation
Sonography Clinical Experience
Abdominal Sonography
Echocardiography
Best MRI Technologist Training Programs in Iowa
Safety is a key part of working as an MRI technician. MRI professionals create 3D images by taking hundreds of scans of specific body parts and compiling them.
Iowa Class Requirements for MRI Technicians
Radiographic Imaging Equipment
Radiographic Pathology
Clinical Experience in MRI Technology
Vascular Sonography Training — Top Programs in Iowa
Blood vessels must work properly for optimal body health. This degree program shows you how to use ultrasound tools to image the body's blood vessels.
Coursework Options for Vascular Sonography Students
Cardiovascular Monitoring
Scanning Applications
Ethical Issues in Healthcare
Anatomy and Physiology
Best Radiology Tech Training Options in Iowa
Radiology technicians use radiographic imaging to scan various parts of the body. Cover safety concepts and imaging techniques in this program.
Classes Offered in Radiology Tech Programs
Radiation Protection
Imaging Techniques
Equipment Operation and Maintenance
Physics of Medical Imaging
Best Echo Tech Training Programs in Iowa
By mastering heart imaging techniques, you may be able to work with cardiographers to fight one of the most common causes of death in the United States: heart disease.
Echocardiography Coursework Requirements
Sonography Physics
Echocardiography
Cardiac Pathology Studies
Interdisciplinary Cardiac Imaging
This is your chance to compare diagnostic medical sonography schools in Iowa and choose a program that suits your needs. Check out our comprehensive list of ultrasound tech programs and contact the ones that catch your eye.
Des Moines, Iowa's largest city, is home to many hospitals and research institutions and is the center of the state's medical industry. Iowa has a relatively low unemployment rate, and because many young, educated people have been leaving the state, there may be many new opportunities for trained medical professionals.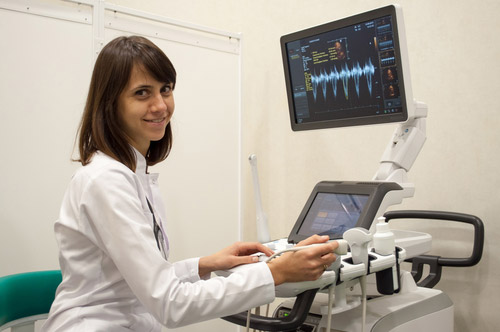 A few of Iowa's smaller colleges are ultrasound tech schools, offering associate degrees in sonography and radiologic technology as well as certificate programs to enter the field. The ultrasound technician programs in IA include Diagnostic Medical Sonography, Nuclear Medicine Technology and Radiologic Technology.
<!- mfunc search_btn -> <!- /mfunc search_btn ->
If you plan to complete a certificate program, you can expect to be in school anywhere from two-four semesters. If you plan on earning an Associate's in Ultrasound Technology, plan to spend at least two years earning your degree.
Some of the more common courses you will likely take include:
Anatomy and Physiology
Diagnostic Procedures I, II, III
Healthcare Communication
Patient Safety and Procedures
Inter-professional Issues
Basic Math, English and Sciences courses
Ultrasound Programs in Nearby States
Is Sonography a Good Career in Iowa?
Still wondering "Is ultrasound tech a good career in Iowa?" You can learn more by exploring the average ultrasound tech salary in Iowa. Salaries vary between specialties. You can also wake up every day knowing that your work is important to the healthcare industry, physicians, and individual patients.
Ultrasound Technician Salary in Iowa
Echo Tech Salary in Iowa — 2017
2017 Vascular Sonographer Salary in Iowa
MRI Technologist Salary in Iowa — 2017
2017 Cardiac Sonographer Salary in Iowa
Radiology Tech Salary in Iowa — 2017
Find Top Allied Health Programs and Start Your Medical Career
Now that you can answer the question "How much do sonographers make in Iowa?" you may be ready to choose an ultrasound tech school near you.
Find out more about your financial aid options on our scholarships page and then reach out to sonographer training programs in IA for more information.
Iowa Ultrasound Schools
<!- mfunc feat_school ->